Search
Christina Jennings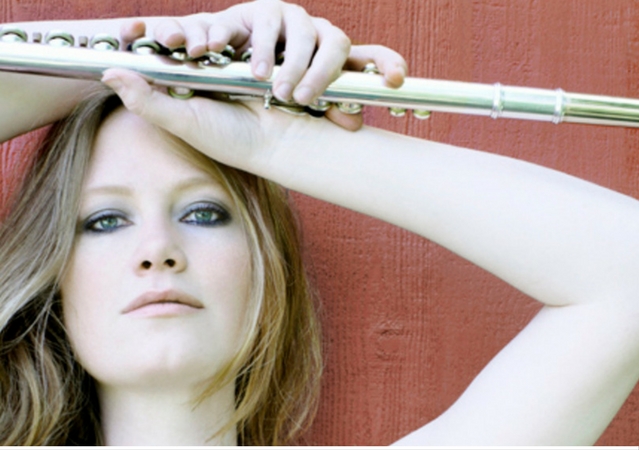 Associate Professor of Flute at the University of Colorado Boulder
Flutist Christina Jennings is praised for virtuoso technique, rich tone, and command of a wide range of literature featuring works from Bach to Zwilich. The Houston Press declared: "Jennings has got what it takes: a distinctive voice, charisma, and a pyrotechnic style that works magic on the ears." Ms. Jennings enjoys a musical career made up of diverse performing and recording, collaborations with living composers, and work guiding young musicians. She is the winner of numerous competitions including Concert Artists Guild, Houston Symphony's Ima Hogg, and The National Flute Association Young Artists.
Active as a concerto soloist, Ms. Jennings has appeared with over fifty orchestras including the Utah and Houston Symphonies. In 2009 she premiered concertos written for her by Carter Pann and Laura Elise Schwendinger. The Washington Post described her performance of the Jonathan Leshnoff Concerto with the Fairfax Symphony as a "spirited, quicksilver performance." Highlights of the 17-18 season include a performance with the Ensō Quartet in Carnegie Hall and concerto performances of the Griffes Poem and Mozart G Major Concerto.
As broad-gauged in her musical pursuits as she is in her repertoire choices, Ms. Jennings played ten years as the Principal Flute with the River Oaks Chamber Orchestra (Houston) where the Houston Culture Map described her as a "flutist (who) glistened with golden pixie dust". She currently performs as Principal Flute with the Arizona MusicFest! Orchestra and has performed frequently with Orchestra 2001 including recent performances at the Library of Congress and in Havana, Cuba. She has worked with such diverse artists such as Jethro Tull, David Parsons Dance Company, and members of Pilobolus. Chamber music partners have included So Percussion, the Brentano and Takács Quartets, soprano Lucy Shelton, pianists Lura Johnson and Simone Dinnerstein, guitarist Jonathan Leathwood, harpists Bridget Kibbey and June Han, and cellist Colin Carr.
Christina Jennings can be heard in works by Alec Wilder alongside jazz great Marian McPartland in a shared CD for Albany Records. In 2013 two discs were released featuring Ms. Jennings in the work of Laura Elise Schwendinger. Three Works (Albany) features the flute concerto Waking Dream for which Fanfare Magazine said "Exquisitely played by Christina Jennings (the work's dedicatee), this is the highlight of the disc." Ms. Schwendinger's High Wire Act (Centaur Records) also features Ms. Jennings in High Wire Act and Rumor. Her most recent publication is a Naxos disc of flute music by the American composer George Rochberg which features her transcriptions of the Caprice Variations published by Galaxy Music. The 2015 Gramophone review says: "Jennings fades to silence in Slow Fires 'while spinning around' [and] the effect is stunning. The recording is miked just right to catch Jennings's multicoloured nuances of tone and phrase."
In great demand as a teacher, Ms. Jennings is Associate Professor of Flute at the University of Colorado Boulder, and on the summer faculties of Greenwood Music Camp and ARIA. She has also taught at Texas and Sarasota Music Festivals. She is the director of the Panoramic Flutist Seminar and the Once a Flutist Festival, both in Boulder. She received her Bachelor and Master's degrees at The Juilliard School, and her principal teachers include Carol Wincenc, Leone Buyse, George Pope, and Jeanne Baxtresser. Ms. Jennings lives in Boulder with her husband, violist Matthew Dane, and their twin sons.
Instruments
Sterling Silver

Retour en Haut