Search
Conor Nelson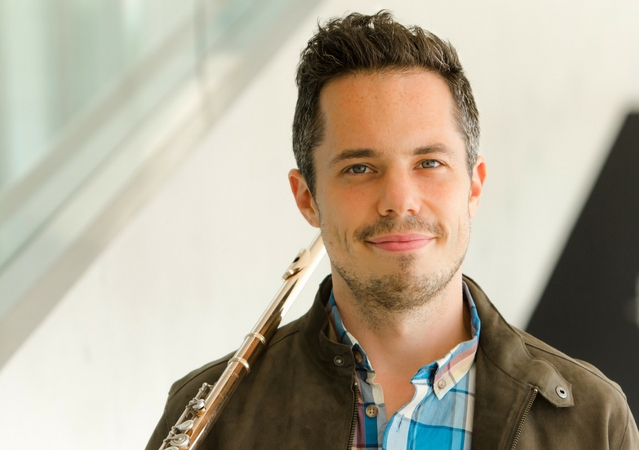 Associate Professor of Flute at Bowling Green State University
Praised for his "long-breathed phrases and luscious tone" by the Minneapolis Star Tribune, Canadian flutist Conor Nelson is established as a leading flutist of his generation. Since his New York recital debut at Carnegie Hall's Weill Recital Hall, he has appeared frequently as soloist and recitalist throughout the United States and abroad. Solo engagements include performances with the Minnesota Orchestra, the Toronto Symphony Orchestra, the Flint Symphony, and numerous other orchestras. The only wind player to win the Grand Prize at the WAMSO Young Artist Competition, he also won first prize at the William C. Byrd Young Artist Competition. In addition, he has received top prizes at the New York Flute Club Young Artist Competition and the Haynes International Flute Competition. He recently performed two recitals in London, England and was featured on the McGraw Hill Young Artist Showcase (WQXR New York), Minnesota Public Radio, WGTE Toledo and WGBH Boston Public Radio.
As a chamber musician, he performs regularly with marimbist/percussionist, Ayano Kataoka as part of the Conor and Ayano Duo. The duo has performed at Merkin Concert Hall, CAMI Hall, Tokyo Bunka Kaikan, Izumi Hall and a recital at the Tokyo Opera City Hall that received numerous broadcasts on NHK Television. Their first CD entitled, "Breaking Training" was released on New Focus Recordings (NYC). His second CD "Nataraja" with pianist Thomas Rosenkranz is also available on New Focus. He has also collaborated with Claude Frank on the Schneider concert series in NYC and has appeared at numerous chamber music festivals across the country including the OK Mozart, Bennington, Skaneateles, Yellow Barn, Cooperstown, Salt Bay, Look and Listen (NYC), Norfolk, Green Mountain, Chesapeake festivals, and the Chamber Music Quad Cities series.
In demand as a pedagogue, Dr. Nelson has given master classes at over one hundred colleges, universities and conservatories. He is currently the Associate Professor of Flute at Bowling Green State University. Prior to this appointment he served as the Assistant Professor of Flute at Oklahoma State University. Recent residencies include Yonsei University in Seoul, Korea and the Conservatorio de Música de Puerto Rico. He is also a regular guest of the Texas Summer Flute Symposium.
He received degrees from the Manhattan School of Music, Yale University, and Stony Brook University where he was the winner of the school-wide concerto competitions at all three institutions. He is also a recipient of the Thomas Nyfenger Prize, the Samuel Baron Prize, and the Presser Award. His principal teachers include Carol Wincenc, Ransom Wilson, Linda Chesis and Susan Hoeppner. Conor a Powell Flutes artist.
Instruments
14K Rose Gold

Retour en Haut