Search
Michael Avitabile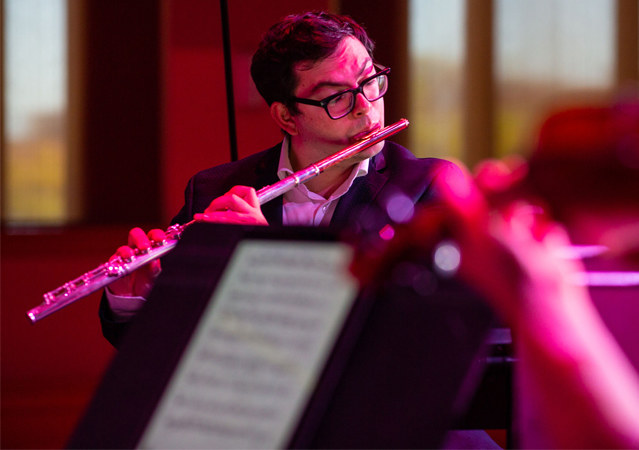 Flutist, Founder & Executive Director of Hub New Music
Praised for playing that is "elegant and exacting" (Boston Globe), Michael Avitabile is an "enterprising" (the New Yorker) flutist, entrepreneur, and educator. He is the Founder and Executive Director of Hub New Music, a Boston-based chamber quartet that has been making waves in the national contemporary music scene.
Highlights for the 2020-21 concert season including performances presented by Arizona Friends of Chamber Music, the Williams Center at Lafayette College, the Alba Music Festival (Italy), alongside residencies at the University of Kansas City, Missouri, Baylor University, and Sacramento State University. Next season, Avitabile will premiere new works by Christopher Cerrone and Eric Nathan as a member of Hub New Music.
As Executive Director of Hub New Music, Avitabile has spearheaded commission projects with leading composers of our time including Hannah Lash, Christopher Cerrone, Takuma Itoh, Robert Honstein, Kati Agocs, Nina C. Young, Jason Treuting, Eric Nathan, and the composer/collective Oracle Hysterical. He has also developed collaborations with Boston's Urbanity Dance, the Silkroad Ensemble's Kojiro Umezaki, The Celebrity Series of Boston, Peabody Essex Museum (Salem, Mass), and the Asia-America New Music Institute (AANMI). The ensemble maintains an active touring schedule (performing roughly twenty-five concerts per season) and has been featured by The Boston Globe, WQXR (NYC), WFMT (Chicago), New York Times, WBUR (Boston), Houston Chronicle, and The New Yorker among several others.
As an educator, Avitabile focuses on empowering students with skills to build the arts organizations of tomorrow as both a flutist and arts entrepreneur. His career development lectures translate the day-to-day experiences of running an artist-led organization to a series of workshops covering topics such as self-management, non-profit development, and commissioning new work. He has worked with students on Arts Entrepreneurship and Contemporary Music at institutions such as Harvard University, the University of Michigan, University of Colorado Boulder, New England Conservatory, University of Texas at Austin, and several others.
He holds degrees from the University of Michigan (BM) and New England Conservatory (MM), graduating with top honors at both institutions.  At Michigan, we was a Shipman Scholar, the highest award given to any incoming student university-wide. While at NEC he was awarded the John Cage Award for Outstanding Contribution to Contemporary Music. His principal teachers were Amy Porter, Paula Robison, Marianne Gedigian, and Elizabeth Rowe.  In his free time, Avitabile develops recipes, practices yoga, and drinks too much coffee.
Instruments
Silver

Retour en Haut