Search
Amy Likar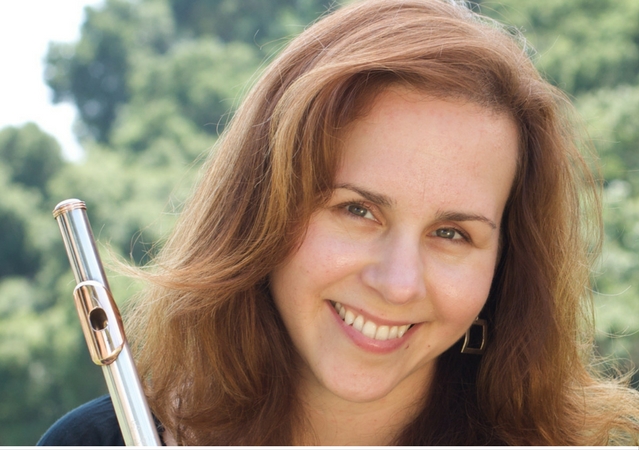 Piccolo of the Oakland Symphony
Amy Likar, flute and piccolo, is a San Francisco Bay Area based performing and teaching artist. Equally at home in an orchestra, as a chamber musician or as a soloist, Amy is also a passionate and committed teacher of all ages. As member of the Oakland Symphony, she is committed to the symphony's mission of classical music for all and mentors for their Music for Excellence Program and advocates for music education on a regular basis.
For almost twenty years she has been an innovator and educator for musicians' wellness as a teacher of Body Mapping and the Alexander Technique. She is the Director of Training for Andover Educators, a not for profit organization of music educators committed to saving, securing, and enhancing musical careers by providing accurate information about the body in movement.
Amy has been a soloist and guest artist at colleges and universities throughout the United States and Europe and a frequent performer and presenter at conferences and conventions throughout the world.
Amy Likar has been a Powell player for 23 years and is pleased to be a Powell Performing Artist.
Dr. Likar holds Master of Music and Doctor of Musical Arts degrees from The Ohio State University and a Bachelor's in Music Education and Flute Performance from Kent State University. Her flute teachers include Martha Aarons, Katherine Borst Jones, Randy Hester, Peter Lloyd and Tim Day. In 1991-92, Ms. Likar taught high school English in Swaziland, Southern Africa.
As a licensed Andover Educator, Ms. Likar has presented "What Every Musician Needs to Know About the Body" at the University of New Hampshire, the Guildhall School of Music and Drama in London, England, Cal Summer Arts, Holy Names University, Columbus State University (GA), Clayton State University, St. Olaf College, the San Francisco Conservatory of Music and other venues across the county and Europe. Ms. Likar has presented the work at multiple conferences including National Flute Association Conventions, Performing Arts Medicine Association Symposiums and the Music Teachers National Association Tri-Conference.
She is the Director of Training for Andover Educators and served as their President for 7 years during their formation as a non profit for continuing education and professional development for musicians.
Ms. Likar has studied the Alexander Technique for over 20 years and received her teaching certification and training from the Alexander Training Institute of San Francisco, studying with Frank Ottiwell, Robert Britton, Larry Ball, Rome Earle, Simone Biase and John Coffin. She has also studied the Alexander Technique and Body Mapping over the past 20 years with Barbara Conable. She is a member of the American Society of the Alexander Technique (M.AmSAT) and Alexander Technique International.
Ms. Likar maintains an active studio and coaches young students to professionals. She works with singers and instrumentalists on enhancing greater freedom and ease both physically and musically.
Instruments
Sterling Silver

Retour en Haut