Search
Adrianne Greenbaum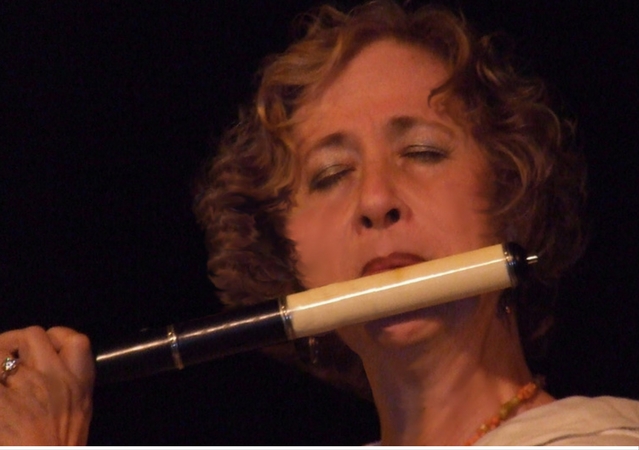 Professor of Flute at Mount Holyoke College
Flutist Adrianne Greenbaum's career as orchestral and chamber musician, teacher,/professor/mentor, and published composer and arranger spans nearly five decades. Professor of Music at Mount Holyoke College, Adrianne is sought after as a performer and teacher for diverse audiences and enjoys teaching children as well as adults, most recently joining the faculty at New Horizons in Chattauqua, NY and the adult session at New England Music Camp in Maine. Adrianne is the leading pioneer revivalist of the klezmer flute tradition, performing on vintage European and American wood flutes from the late nineteenth centuries.
She enjoys touring with her klezmer ensemble "FleytMuzik" having recently completed a seven concert tour of Scotland and looking forward to presenting her klezmer and early music blend at the prestigious Pittsburgh Renaissance and Baroque series in 2016. In addition to many universities and colleges throughout the US, she has performed and given master classes in Dusseldorf, Paris, Vienna, and Krakow. Her albums "FleytMuzik" and "Family Portrait" have won awards and acclaim for her entertaining and historically informed performances, the most recent being the release of "Farewell to the Homeland: Poyln". As well, for many years running, Adrianne has been invited to perform and give workshops for the National and the British Flute Society Societies and for the prestigious New York Flute Club, focusing on baroque and klezmer ornamentation, and exploring commonalities between these two genres.
Since receiving her BM from Oberlin and MM from Yale, she has involved herself with teaching at all levels, from the day one experience of flute playing to coaching professionals on the fine distinctions of making music come alive. Beyond her private studio she has taught at many adult programs, including KlezKamp, KlezKanada, KlezmerQuerque, Boxwood Festival (Nova Scotia) and Santa Fe Flute Immersion and has led master classes and workshops in England, France, Austria, and across the US. This summer marked the third annual hosting of her popular World Music and Improv Camp in CT. Additionally she has created a new concert series on period instruments, connecting klezmer and baroque music. Ms. Greenbaum is Solo Flutist of the Wall Street Chamber Players, Principal Flute Emeritus of Orchestra New England and the New Haven Symphony and resides in Fairfield, CT.
Instruments
Grenadilla Wood

Retour en Haut