Search
Amelia Lukas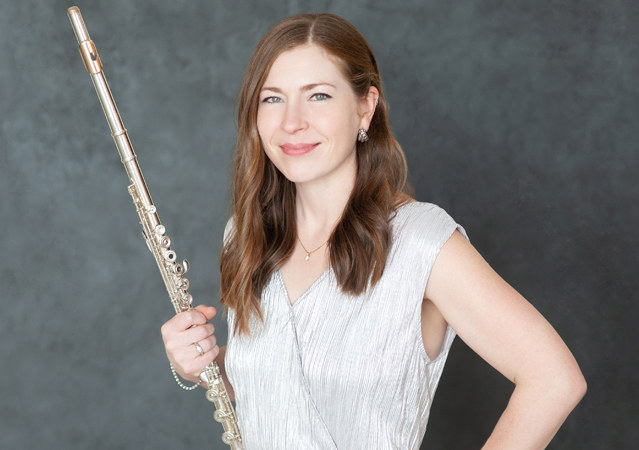 Soloist and chamber musician
Flutist Amelia Lukas performs with "a fine balance of virtuosity and poetry" (The New York Times) and has "a buoyancy of spirit that comes out in the flute, a just beautiful sound." (Boston Globe) Lauded for her skilled interpretation of new music and "considerable technique" (New York Times), she has extensive experience working with cutting-edge composers and multimedia artists as both a performer and producer. "Lukas has a deceptively commanding stage presence, and excels at bringing drama and fire to hyper-modernist works with challenging extended techniques." (Oregon ArtsWatch)  A resident of Portland, Oregon, Lukas is a member of Fear No Music and has featured as a soloist with Chamber Music Northwest, March Music Moderne, Portland Taiko, the Astoria Music Festival, Music in the Woods and for All Classical Portland's live radio broadcasts, with additional chamber and orchestral performances for the Willamette Valley Chamber Music Festival, Portland Piano International, TedX Portland, Friends of Chamber Music, 45th Parallel, Oregon Music Festival, Eugene Symphony, and Bridgetown Orchestra.
During her time living in New York City, Amelia was a member of the American Modern Ensemble, Ear Heart Music Ensemble, Trio Kavak, the Nouveau Classical Project, Ensemble Sospeso, Arkora, Opera Cabal, TACTUS and the NeoLIT ensemble, and performed frequently with Counter(induction, the American Composers Alliance, and Columbia Composers. Past projects include flute fellowships at the Norfolk Chamber Music Festival and Orford Sound Art Festival in addition to performances at Carnegie Hall (Main Stage, Zankel Hall, and Weill Recital Hall), Lincoln Center, The Stone, Bargemusic, (Le) Poisson Rouge, Subculture, Roulette, and New Music New York Festival.
Lukas was one of two flutists in the inaugural class of thirteen musicians to earn Master's Degrees in Contemporary Performance from the Manhattan School of Music in 2007, and graduated on The Dean's List. She received her Bachelor's Degree from the Royal Academy of Music in London where she received three prizes for musical excellence. Her greatest mentors include John Heiss, Trevor Wye, Kate Hill, William Bennett, Patricia Morris, and Tara Helen O'Connor.
In addition to her performance work, Lukas is an inspired communications expert and modern production pioneer who is driven to enrich and strengthen artistic communities. She specializes in maximizing the impact of arts organizations, creating audiences who are more deeply connected to and engaged in the arts. As the Principal and Founder of Aligned Artistry, she offers sophisticated public relations consulting services to artists and arts organizations, considered "the gold standard for arts consulting in Oregon." (Kenji Bunch, composer) Lukas also founded and directed the "impressive (and)… feisty contemporary-classical concert series" (The New York Times) Ear Heart Music (2009-2015), which "arrived as a major cultural resource in the city." (New York Arts) Based at Roulette in Brooklyn, this multimedia showcase of highly talented and adventurous performers, composers, and collaborative artists included 85 unique concerts with over 60 premieres during its six seasons. Ear Heart Music is celebrated for "repaving the landscape for new opera," (Opera News) "pilot(ing) impressive events on a shoestring budget… (that are) both sonically seductive and thought-provoking" (New York Times) and developing audiences that are "plentiful, knowledgeable, and keen" (New York Arts).
Lukas is a member of the Board of Directors for Chamber Music Northwest, and served on a task force that helped the organization transition to a successful virtual season during the covid-19 pandemic which became a model for festivals across the country. Her speaking engagements include the Chamber Music America and Dance USA conferences, as well as Philip Glass' MATA Festival. Past board experience includes terms with The Walden School and Opera Cabal, and she has served on the advisory board for High Concept Laboratories.
Lukas plays on a Handmade Custom Sterling Silver Powell Flute. Learn more at amelialukas.com.
Instruments
Sterling Silver

Retour en Haut