Search
Carlos Cano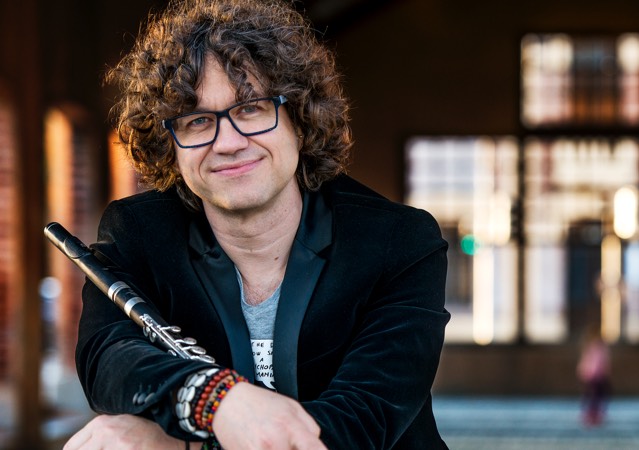 Professor of flute at the Real Conservatorio de Musica de Madrid
(…) They play standing up, one gets the feeling that the music comes to them from the ground and ascends with a dancing plasticity that transforms into sound when it reaches their fingers and their lips after having gone through their bodies …
(Review of Trío Cervantes)… El Norte de Castilla Newspaper (1995)
(…) D`un jeune et sensible flûtiste né a Cuba… Tempo Flûte (2014)
Flutist, composer, arranger and music producer, Carlos Cano Escribá plays with a grenadilla wooden flute by Verne Q. Powell Flutes of Boston, Massachusetts. Born in Havana in 1971, Mr. Cano completed his musical studies at the "Manuel Saumell" and the National School of Music, graduating in 1990 under tuition of Alberto Corrales. He has attended master classes of Riccardo Ghiani, Jaime Martín, Benoit Fromanger and Michel Moragues, among others.
Mr. Cano is a former member of the National Symphony Orchestra of Cuba, with which he performed on the most important stages of Spain in 1994. Later he settled in Madrid where he has continuously collaborated with various orchestras such as the Symphony Orchestra of Madrid and the Symphonic Orchestra of the Gran Teatro del Liceo in Barcelona. He is also member of the Cervantes Trio, a group that has received a number of awards and has participated in numerous international festivals. With the Cervantes Trio Mr. Cano has released the albums "Música en Iberoamérica" ​​and "Los muñecos", the latter was pre-nominated for a Latin Grammy in 2010, and has performed throughout Spain, France, Italy and Germany.
He collaborates assiduously with several groups who perform ancient music on historical instruments. His recording of the Sonatas Opus.3 by Juan Oliver Astorga (1763-1830) was nominated for the Excellence in Publishing, Music and Research by the International Music Critics Association.
In other musical fields, his transcription for wind band of the concerto for flute and orchestra titled "Gran Danzón" by Paquito D`Rivera, published by the Boosey & Hawkes, stands out. Drawing on his experience as a music producer, Mr. Cano worked with Cuban poet Aldo J. Méndez and pianist Hernán Milla to found "Veleta Roja." His first album, "Donde nace la luz" (2012), was nominated for the International Prize in the International Fair of Havana "Cubadisco". Their last work "Canciones y Palabras" (2015), was nominated in Latin Grammys as best album for children. It is also remakable the production of the album "Malagasy Gospel & Kilema" (2015).
"Por la rivera de Paquito" (2017) is the last album by Carlos Cano and Hernán Milla and released in New York. Since 2007, they have consolidated a binomial whose work has fructified in numerous proposals, taking the music as a starting point and vehicle for transmitting an artistic and human ideology encompassing actions of very different nature, magnitude, styles and targets.
As a duo, their proposal focuses on the rescue, innovation and expansion of the repertoire for flute and piano. His first album, "20th Century Spanish Music for Flute and Piano" (2014), the result of a research project about the Spanish music of the 20th Century and legendary flutist Rafael López del Cid, was presented in Seville during the 3rd National Flute Convention organized by AFE. This album contains some pieces that were for the first time recorded on a CD. This work meant also the "premiere" of "Veleta Roja" as Publishing house, was the subject of several research articles in journals such as "Tempo Flute" (France), "Flute Talk Magazine" (USA) or "Todo Flauta" (Spain), and earned very good reviews in the music press.
The duo has performed in several cities such as New York, Paris, Madrid, Seville, Bilbao, Valencia, Toledo or Ciudad Real, as well as live performances for National Radio of Spain.
He is currently professor of flute at the Real Conservatorio de Musica in Madrid, Spain.
Instruments
Grenadilla Wood

Discography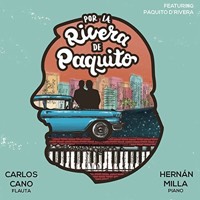 Por la Rivera de Paquito(2017) Veleta Roja Editions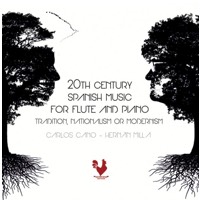 20th Century Spanish Music For Flute And Piano(2014) Veleta Roja Editions
Retour en Haut