Search
Francesca Arnone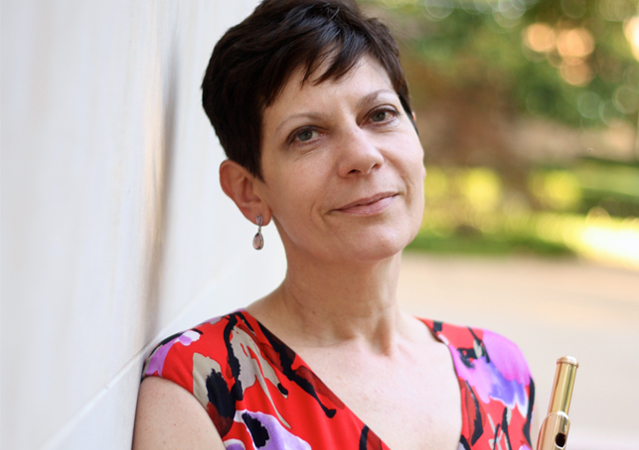 Flute Professor at the University of South Florida
Francesca Arnone is a versatile flutist and piccoloist, equally at home in orchestral, solo, chamber music, and college teaching settings. She is the flute professor at the University of South Florida, where she is an affiliate faculty member of the Judy Genshaft Honors College and Coordinator of the USF Community Music Project. In the summers, she is an artist-faculty member of the Killington Music Festival in Vermont. She performs with the Sarasota Opera and Palm Beach Opera orchestras, in addition to other orchestras across Florida. Former orchestral positions include Principal Flute of the Boise Philharmonic and Co-Principal of the Orquesta Sinfónica de la Universidad de Guanajuato, in Mexico. Her concerto performances in the US and Mexico have presented repertoire ranging from Bach to Chen Yi.
Conversation through music, with emphasis on chamber music, is central to Arnone's playing and teaching. Her flexible duo with oboist Amy Collins, Amici, have premiered works by such composers as Amanda Harberg, Linthicum-Blackhorse, Stella Sung, and Ingrid Stölzel. As part of her duo, reACT, with violinist Mikylah Myers, Arnone was a featured performer at the 2016 NY Philharmonic Biennial at National Sawdust. Her solo flute and chamber music recordings on MSR and PARMA have met with critical acclaim.
Before returning to her home state of Florida, Dr. Arnone was on faculty at Boise State, West Virginia, and Baylor universities, and at music festivals in the Americas and Italy, including Blue Lake Fine Arts Camp in Michigan and Flootfire camps in Texas. She has been a guest artist, presenter, and teacher at a variety of flute festivals including the National Flute Association, British Flute Society, International Flute Festival of Costa Rica, International Low Flutes Festival, and the Flute Society of Spain. An avid traveler, she has performed in Europe, Asia, and the Americas, in such venues as St. Martin-in-the-Fields, Royal Northern College of Music, Royal Conservatory of Madrid, Benedetto Marcello Conservatory in Venice, and the Split Academy of Music in Croatia. She performs with the Superflutes International Flute Collective, a flute ensemble comprised of flute professors and orchestral flutists from around the world.
Francesca grew up in Port Charlotte, Florida, and studied at Oberlin, the San Francisco Conservatory, and the University of Miami, where her primary teachers include Robert Willoughby, Timothy Day, Julia Bogorad-Kogan, and Christine Nield-Capote. She is active in the National Flute Association, having served as Program Chair (2018), and is a former member of Bobby McFerrin's Creativity 101 class at San Francisco Conservatory.
Instruments
14K Rose Gold

Retour en Haut