Search
Linda Marianiello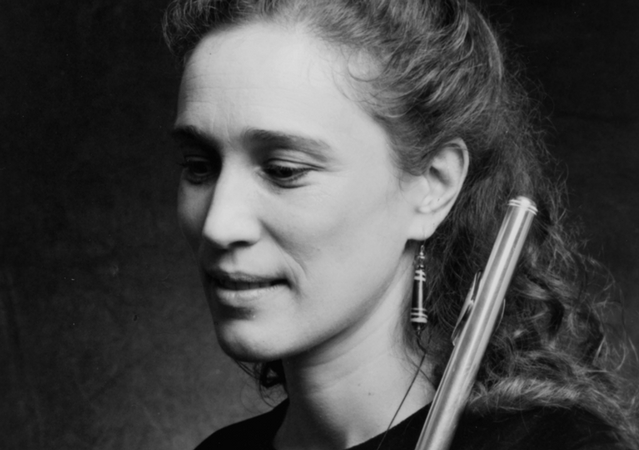 Artistic Director of Santa Fe Flute Immersion
Linda Marianiello enjoys an ongoing solo career that includes concerto appearances with the Bavarian Radio Orchestra, the Orchester Concerto Armonico Oberammergau, the New American Chamber Orchestra, the Fairfield Chamber Orchestra, the Wyoming Symphony, the Mercury Ensemble, and the Musica Sacra Chamber Orchestra. She plays in recital at European festivals in Bayreuth, Salzburg, Potsdam-Sanssouci, Oberammergau, Deya-Mallorca, Elba and Graz. In addition to performing on many well-known concert series throughout the United States, she is a frequent guest at National Flute Association conventions. She also appears in live television broadcasts on ORB-Berlin, Spanish National Television, Austrian National Television, Bavarian Television, and numerous PBS television stations. Linda Marianiello is heard on many National Public Radio stations, most notably in live performance on WNYC-New York.
She is particularly interested in recording standard repertoire in new ways and has a passion for introducing quality repertoire that is less widely known. Her numerous chamber music recordings for the Bavarian Radio Studios in Munich, Germany emphasize nineteenth and twentieth-century works for flute with piano and strings. "Baroque Sampler" (Swineshead Productions, Berkeley, CA 2001) features French and German works for baroque flutes and harpsichord. The American Music Research Center at the University of Colorado at Boulder commissioned the Marianiello-Reas Duo to record "Dialogues: American Music for Flute and Organ" (MSR Classics 2003). The success of the first CD led the Duo to release a second album, "Cantilena" (MSR Classics 2010). "Consolations" (MSR Classics 2008) features Romantic works by Franck, Widor, and Liszt. Recorded in the Europasaal in Bayreuth, "Consolations" showcases the more intimate sounds of a historic 1930 Verne Q. Powell flute and an 1872 Steingraeber Liszt grand piano.
Her desire to collaborate has led to the founding of many chamber music groups, among them The Con Brio Chamber Ensemble with colleagues from the Bavarian State Opera; The New England Trio with flutist Brooks de Wetter-Smith and pianist-conductor Franz Vote; The Chicago Fine Arts Chamber Players with Stephen Balderston, former associate principal cellist of the Chicago Symphony Orchestra and Professor of Cello at De Paul University, and pianist Aaron Krister Johnson, a multi-keyboardist, composer, and the artistic director of Midwest Microfest.
As a teacher, Linda Marianiello has served on the faculties of the City University of New York-Brooklyn College, Colorado State University, and the Summer Flute Institute at the Sherwood Conservatory of Columbia College in Chicago. As a guest artist in residence, she has performed and taught at numerous universities including Yale, Cornell, Northwestern, De Paul, Rhodes College, Miami University of Ohio, SUNY-Fredonia, the University of Wisconsin-Madison, the University of Illinois at Champaign-Urbana, Brigham Young, and the Xinghai Conservatory of Music in Guangzhou, China. Thanks to new technologies, Marianiello now also teaches extensively via the Internet.
Linda Marianiello lives in Santa Fe, New Mexico, where she is Artistic Director of Santa Fe Flute Immersion, and Executive Director of New Mexico Performing Arts Society (NMPAS), a music presenter that brings together top New Mexico professional musicians. NMPAS is now in its fifth season of presenting concerts and masterclasses throughout the State of New Mexico. Her principal teachers are Bernard Goldberg, Walfrid Kujala, Thomas Nyfenger, Peter Thalheimer, and Andras Adorjan. Marianiello holds a B. A. from Yale University and an M. A. from the City University of New York-Brooklyn College.
Instruments
Sterling Silver

Retour en Haut