Recherche
Hilary Abigana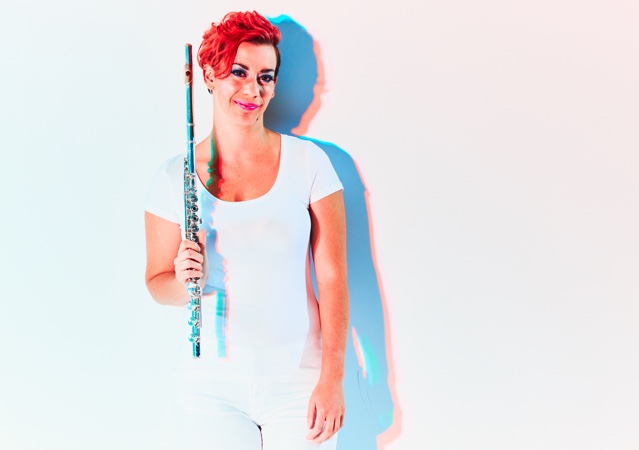 Flutist with The Fourth Wall
Hilary Abigana is a founding member and the flutist for the hybrid arts ensemble, The Fourth Wall. Joining bass trombonist, C. Neil Parsons and percussionist, Greg Jukes, they explore a new hybrid of the performing arts in which musicians are also dancers and actors. Stretching the boundaries of instrumental performance, The Fourth Wall commissions new interdisciplinary works and reinterprets established repertoire to make music that leaps off the stage. Most recently, they performed at the 2014 National Flute Association's Annual Convention, including a solo performance of Oliver Knussen's Masks. In 2013, they hosted their audience-interactive performance project, Mixer, at the New Orleans convention. They were also featured at the 2013 and 2014 Indianapolis Fringe Festival; and the 2014 Rochester and Houston Fringe Festivals performing Fruit Flies Like a Banana, a hybrid arts sprint-triathlon variety show. In addition to performing hybrid arts concerts, The Fourth Wall travels all over the country (from Alaska to New York!) conducting workshops in the basics of this genre, and encouraging participants to utilize music, dance and theater techniques in their performances.
Hilary was the winner of the 2003 Eastman Nielsen Flute Concerto Competition, performing with the Eastman Philharmonia Chamber Orchestra in a gala concert honoring Professor Emeritus, Joseph Mariano. She was also the winner of the 2008 Houston Flute Club's Byron Hester Young Artist Competition, a silver medalist at the 2008 Fischoff Competition (with Trio Destino), and a silver medalist at the 2014 Midwest Fleadh Cheoil Over 18 Céilí Band Competition (with the Indianapolis Céilí Band).
Passionate about teaching, Hilary was the Guest Artist at Floot Fire (Dallas, TX), choreographing over 100 young flutists in a performance of "I've Got Rhythm." She is now on faculty at Floot Fire, the International Flute Symposium (with The Fourth Wall), and was co-founder of the Irish Arts Academy of Indianapolis.
Hilary is at home in the orchestra as well as in front of it. She has performed with the Buffalo Philharmonic and Saint Paul Chamber Orchestras with the "music-telling" ensemble, Tales & Scales; with the Evansville Philharmonic in a performance of the Brandenburg Concerto No. 4; and premiered a new family show in November 2013 with The Fourth Wall and the Capitol City Symphony. She has held positions with the Evansville Philharmonic and Owensboro Symphony Orchestras.
Hilary received her Bachelor of Music degree with Distinction from The Eastman School of Music, where she also was awarded the Performer's Certificate in Flute. She received her Masters Degree from Rice University's Shepherd School of Music where she studied with Leone Buyse. Together with previous teachers Bonita Boyd and Timothy Day, these three musicians have been the greatest influence on her playing.
Picture by ©Andy Batt
Instruments
Sterling Silver

Retour en Haut