Search
Lois Herbine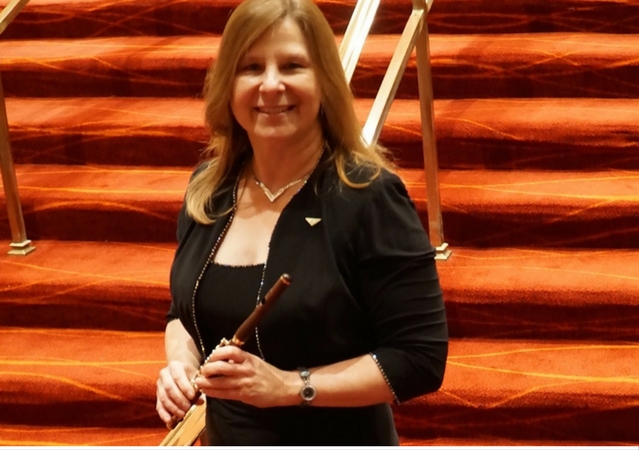 Piccolo Soloist & Recording Artist
Lois Bliss Herbine is an internationally renown solo piccolo recording artist. All six accompanied recordings from her CD, Take Wing, including premieres of Michael Daugherty, Daniel Dorff and Vincent Persichetti, can be heard on radio stations across the United States. The Gramophone hails her recital as "high-flying" and Music Web International exclaims, "Another leading wind soloist takes flight". Philadelphia Inquirer music critic David Patrick Stearns described her piccolo performance for her Concerts at Carmel series DTR records release a "model of color driven expression". A premiere solo recording on Inverno Azul (BCM&D Records) of music by composer Cynthia Folio has gained much interest in her work Philadelphia Portraits: A Spiritual Journey for piccolo and piano which is currently being performed by professional piccoloists around the world. It's first known broadcast was August 22, 2016 on Canadian radio CKWR FM 98.5.
Herbine has performed multiple times at National Flute Association conventions to favorable press, including premieres of solo music for piccolo by David Finko, Daniel Dorff, Cynthia Folio and Lucien Posman. She has performed on two closing ceremonies – in Anaheim 2010 as a duet with European piccoloist Peter Verhoyen and she shared the stage with some of the worlds' top piccolo players and the US Army Field Band during the 2015 closing ceremonies.
Herbine has performed as piccolo soloist with the Ocean City Pops Orchestra, the Cal State Band Fullerton, the Kutztown University Orchestra, the Philadelphia Sinfonia and the Abington Chamber Orchestra. When the Republican National convention was held in Philadelphia, she was invited to give a solo performance on flute and piccolo for the Republican Governors' Association.
A native of the Philadelphia area, Lois Herbine studied flute with Frank Versaci and Kazuo Tokito and graduated from the New School of Music, Philadelphia, as a student of David Cramer, John Krell and Deborah Carter Smith with the school's highest honors in performance and academic achievement.
Herbine and Eastroom sound engineer Drew Taurisano just finished recording a piccolo solo with a sixteen-piccolo recorded accompaniment by composer Howard Hersh which will premiered during the future Lackawanna County Anthracite Heritage Festival. It will then be on permanent display accompanying a video via a recorded version at The Anthracite Heritage Museum in Scranton.
With the support of Powell Flutes, Herbine is currently giving recitals, lectures and masterclasses at flute clubs and Universities across the country, including the Greater Philadelphia Flute Society "Flute Fair" in April 2015 along with flutist Lorna McGhee. For information on Lois Herbine's orchestral, adjudication and teaching experience, publications and performing chamber ensembles follow the links or go to the home page and click on the individual boxes.
Instruments
Sterling Silver

Handmade Custom Piccolo

Retour en Haut