Search
Lois Herbine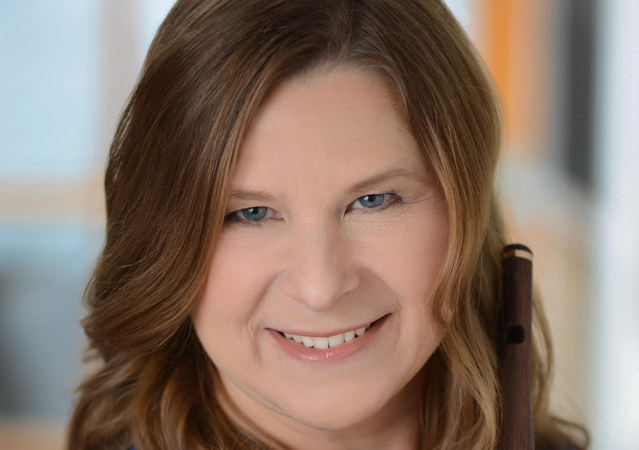 Piccolo Soloist & Recording Artist
Lois Bliss Herbine is an internationally renowned solo piccolo recording artist. All six accompanied recordings from her CD, Take Wing, which include Vincent Persichetti, Daniel Dorff and Michael Daugherty premieres, have been broadcast on radio stations across the United States.  The Gramophone hails her recital as "high-flying" and Music Web International proclaims, "Another leading wind soloist takes flight". In 2009, in her premiere chamber recording produced with DTR Music, Illuminations, her piccolo performance was praised as a "model of color-driven expression" that compared favorably to internationally renowned chamber artists (David Patrick Stearns, The Philadelphia Inquirer).
Herbine has performed piccolo continuously with the Reading Symphony Orchestra and annually for the Ocean City Pops Orchestra for over twenty years. For eighteen years as solo flutist and piccoloist for Philadelphia's new music ensemble, Orchestra 2001, Herbine worked closely with many composers including Gunther Schuller, Tan Dun, George Rockberg, Andrea Clearfield, Melinda Wagner and Jennifer Higdon. She recorded with the ensemble for CRI (New World Records) in the Music of our Time CD series and for Albany Records. A rerelease of Gerald Levinson's in dark (three poems of the night) with a "veiled, mysterious" chamber ensemble of low flutes and percussion was a featured recording for the Innova Label in 2020.
With the support of Powell Flutes, Herbine released her solo EP, Alight, August 2018, which includes the premiere recording of Tweet! composed for her by Daniel Dorff and Amanda Harberg's Prayer which is Herbine's debut classical solo flute recording. Her first flute solo recording in a new age composition, titled I Cried, was released as part of UNESCOs world peace project – Action Moves People United. This double CD set made the Billboard Chart in October 2016 and her partners in the creation of the single track went on to win three Grammy Awards in 2019. In September 2017, Herbine recorded for Rupam Sarmah's, A Musical Journey: Together in Peace, which was released at the United Nations in New York. This CD climbed to #1 on the Billboard World Music Chart in November 2017. As a commercial artist, Herbine has performed in soundtracks for television and radio specials, theme music and commercials. She has accompanied John Legend and recorded for Spike Lee. For four years Herbine served as both the principal flute for Peter Nero and the Philly Pops and for the Mann Festival orchestra, accompanying artists such as YES, Art Garfunkel, Brian Wilson and Linda Eder on tour.
Herbine has performed multiple times at National Flute Association conventions to favorable press.  In addition, she has performed in two closing ceremonies – in Anaheim 2010, as a duet with European piccoloist Peter Verhoyen, and in Washington D.C. 2015, with some of the world's top piccolo players and the US Army Field Band.
In 2017 Herbine premiered a ground breaking new work by composer Howard Hersh for piccolo solo with a sixteen-piccolo recorded accompaniment prepared by engineer Drew Taurisano. This piece, I Had to Go Down in the Mines to Climb Up to the Sky, was the final work on her full piccolo recital at the Festival of New American Music in Sacramento California, celebrating the series' 40-year anniversary.
While Lois Herbine has maintained an active teaching studio at her home in suburban Philadelphia for thirty-five years, it has been in recent years that professional flutists and piccoloists have sought her out for private lessons and coaching.  Nancy Nourse of Flute Focus magazine praised Herbine as a "piccolo pedagogue extraordinaire" for her role as resident instructor for the International Piccolo Symposium in 2009.  Herbine unwaveringly continues the pedagogy of her teacher John Krell and his book Kincaidiana, which describes the legacy and pedagogy of the Philadelphia Orchestra's principal winds from the "Golden Age", flutist William Kincaid and oboist Marcel Tabuteau.
As a writer, Herbine has contributed articles for the national trade magazines Flute Talk, The Flutist Quarterly, The Flute View, the American Music Center's web-magazine, New Music Box, and for Indiana University Press. A native of the Philadelphia area, she earned her Bachelor of Music from the New School of Music where Herbine received the school's highest honors in performance and academic achievement. With the support of Powell Flutes, Lois Herbine has given her "Golden Age" lectures and masterclasses to flute clubs and Universities across the country and for 2021 has created a virtual "piccolo tips" workshop that has been presented in America and Canada.
Instruments
Sterling Silver

Handmade Custom Piccolo

Retour en Haut