Search
Matthew Roitstein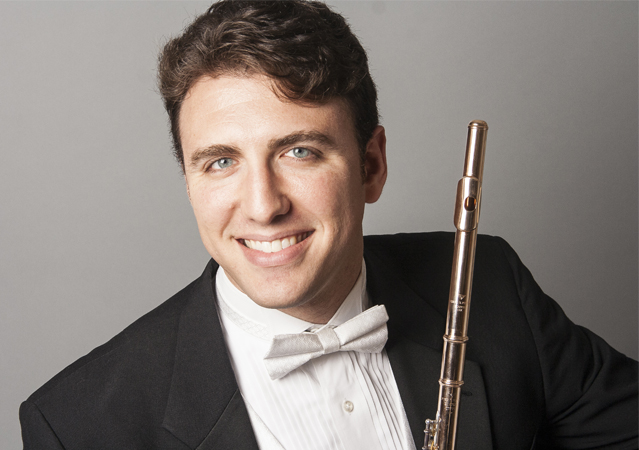 Associate Principal Flute of the Houston Symphony Orchestra
Originally from Valencia, CA, flutist Matthew Roitstein enjoys a diverse career in performance, education, architecture and visual arts. He joined the Houston Symphony in 2014 as Associate Principal Flute, the first appointment made by Music Director Andrés Orozco-Estrada. Previously a member of the Honolulu Symphony and Sarasota Opera Orchestras, Roitstein honed his skills as an orchestral musician while he was a fellow of the New World Symphony in Miami Beach, where he inaugurated the Solo Spotlight recital series in 2011 in the newly built, Frank Gehry-designed New World Center.
Roitstein has performed as a concerto soloist with the Houston Symphony and as guest Principal Flute with the Dallas Symphony Orchestra, Fort Worth Symphony Orchestra, and River Oaks Chamber Orchestra. He has also performed with the Los Angeles Philharmonic, Atlanta Symphony, and Louisiana Philharmonic. During his summers, he has participated in the Tanglewood Music Center, Music Academy of the West, Aspen and Sarasota Music Festivals. Roitstein has twice appeared on PBS "Great Performances" from Tanglewood and the New World Center, and he can be heard on recordings with the Houston Symphony and New World Symphony, as well as on Gloria Estefan's 2013 album, "The Standards." He recently recorded "Studies in Nature," a trio for flute, harp and viola by award-winning composer Karim Al-Zand, on an album of Al-Zand's chamber music.
An enthusiastic educator, Roitstein has taught extensively in the US as well as throughout South and Central America, and he has been on the faculty of the Interlochen Arts Camp since 2018. He received his Bachelor's Degrees in both architecture and music from the Massachusetts Institute of Technology, where he was the 2007 winner of the MIT Symphony Concerto Competition. While at MIT, he studied flute with Seta Der Hohannesian. He received his Master's Degree in flute performance with Leone Buyse at Rice University's Shepherd School of Music. Other influential teachers include Mark Sparks, Stephen Kujala, Gary Woodward, Pedro Eustache, and Matthew's mother, Rosy Sackstein.
Instruments
14K Rose Gold

Handmade Custom Piccolo

Retour en Haut