Search
Celina Charlier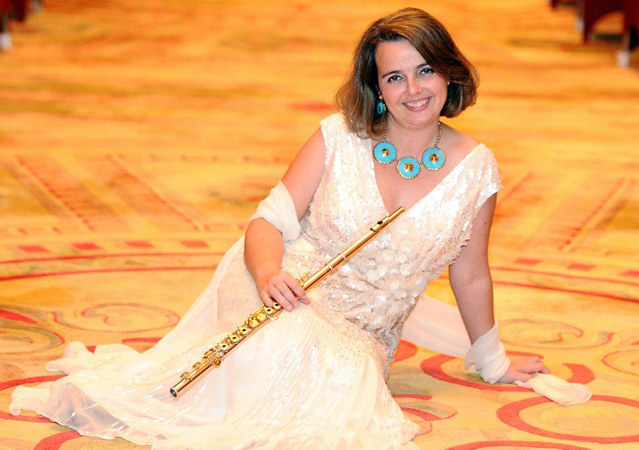 International flute soloist and conductor
A disciple of Jean-Noël Saghaard (from the lineage of Roger Bourdin and Christian Lardé) and Keith Underwood, Celina Charlier's flute playing blends the poignant low register and wide color palette from the French school, with the sweet tones and flexibility of the American school- adding to them a dash of Latin spice groove from her Brazilian upbringing.
Born in Brazil, Celina started performing professionally at the early age of 15, with a debut recital at the prestigious concert season at SESI Hall in her native São Paulo, and solos with Brazilian orchestras conducted by Maestros Ricardo Averbach and João Maurício Galindo. Since then she has performed professionally as a soloist, chamber musician and orchestral player. Celina graduated from São Paulo Municipal School of Music, from São Paulo State University, and holds an M.A. and a Ph.D. in Flute Performance from New York University. She taught at NYU for 18 years, having put together from scratch the entire music program for NYU Abu Dhabi, where she served as Director of Music Performance and Visiting Assistant Professor of Flute and Chamber Music for four years. As an award for her designing and successfully implementing the music program at NYU Abu Dhabi, she was granted a fully sponsored sabbatical leave, in which she performed 150+ concerts in 12 countries between 2015-2016.
Her repertoire ranges from Early Music to Contemporary Avant Garde, including Brazilian genres and improvisation in several styles, having premiered more than 70 pieces especially composed for her, by prominent composers like Maestro Ricardo Tacuchian (former President of the Brazilian Academy of Music), Edmundo Villani-Côrtes, the most prominent classical Brazilian composer alive, and Maestro Keith Thompson, a leading figure in musical theater direction and composition.
Living in New York for the past 20 years, Celina has maintained an intense concert career as a flutist, performing in the USA, Brazil, Argentina, Mexico, Italy, France, Switzerland, England, Malta, Sri Lanka, India, and the United Arab Emirates. She also works as a conductor, music arranger and professor. Celina conducts her own chamber string orchestra, Camerata Charlier, (Link to concert/professional recording), born from the intersection of her professional expertise as a flute soloist, conductor and music educator.
Retour en Haut