Suche
Jennifer Parker-Harley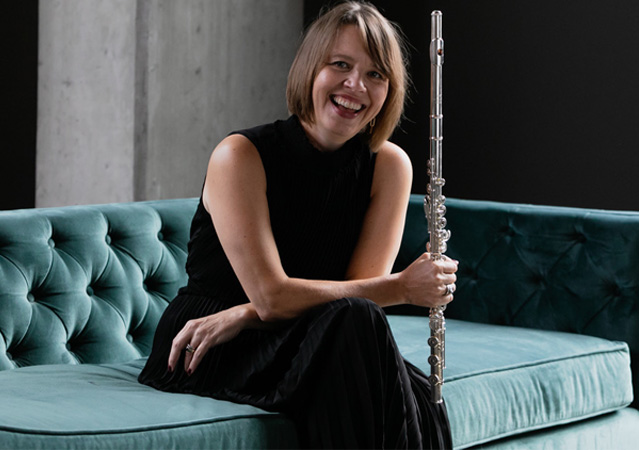 Professor of Flute at the University of South Carolina in Columbia
Jennifer Parker-Harley is Professor of Flute at the University of South Carolina in Columbia. Formerly a member of the Columbus Symphony (OH) and prizewinner in two NFA Young Artist Competitions, she brings a breadth of experience as an orchestral flutist, recitalist and chamber musician to her performances and studio at UofSC. She has a keen interest in contemporary music and has premiered and commissioned numerous pieces that feature the flute in solo and chamber settings, including new works for flute and bassoon with her husband, bassoonist Michael Harley. She also maintains a deep commitment to the standard repertoire: her CD with pianist Lydia Brown and actress Robyn Hunt, Words and Music ((Titanic label), includes masterworks by Debussy, Schubert and Reinecke, and incorporates readings of the poetry that inspired each piece.
Jennifer is actively involved with the faculty at UofSC in creating curriculum and experiences that address the unique concerns of 21st century musicians. She has an interest in helping her students develop a mindful approach to music-making and has worked closely with psychologist Todd Kays (www.athleticmindinstitute.com) to address the mental and emotional aspects of performing and practicing. She has held leadership roles on campus and in national events, including the College Music Society Summit on 21st Century Music School Design. She is the faculty advisor for Fuse, UofSC's graduate wind quintet, an ensemble dedicated to providing innovative and immersive concert experiences to the UofSC community. She is also faculty advisor for the South Carolina Flute Society, a student organization that holds national competitions and stages a yearly flute festival, all while giving UofSC flute students important experience in event planning, fundraising and community engagement. Graduates from the UofSC flute studio pursue successful and varied careers in music, including orchestral playing, college teaching, chamber music, music education, and the music industry.
Born and raised in South Carolina, Jennifer graduated from the Interlochen Arts Academy, the Eastman School of Music (BM), where she was awarded the Performance Certificate, Michigan State University (MM), and the University of Cincinnati College-Conservatory of Music (DMA). In the summers she teaches at the National Music Festival in Chestertown, MD and the Interlochen Arts Camp in Michigan. Jennifer was featured in the October 2019 cover article of Flute Talk magazine.  Please visit www.jenniferparkerharley.com.
Instruments
Aurumite 14K

Retour en Haut