Suche
Rie Shimizu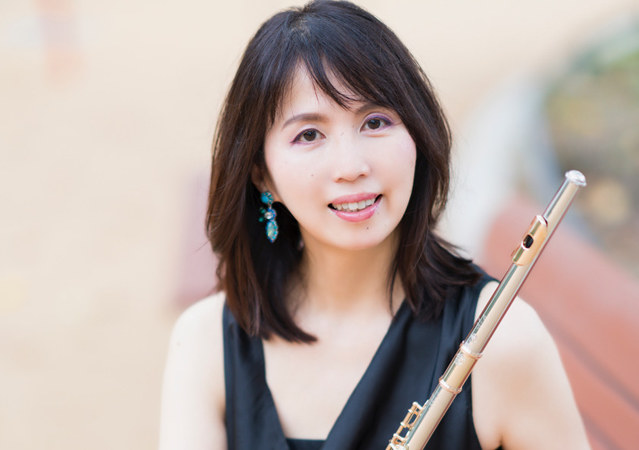 Soloist, chamber musician and master clinician
Rie Shimizu is a very active soloist, chamber musician and master clinician.  A recipient of many awards and funds. She won the third prize at Kyogaku Ⅱ (the Contemporary Music Performance Competition by ISCM Japanese Section) and the Forte Music Award in Tokyo.  In 2020, she was a major soloist at the concert "The History of Japanese Composers" in Tokyo, subsidized by the specified non-profit organization, the Video Industry Promotion Organization.  In 2021, she received the aid for her concert from the Agency of Cultural Affairs, Government of Japan.
Many of her recordings are on the music streaming service, the Dolce Classic Channel, including "PtFour" (Quartet consisting of all platinum flutes), Kensaku Shimizu "Japanese songs and World Songs", and "Kuhlau Project" (recording all flute duos by Kuhlau with Motoaki Kato, a serial recipient of many awards, including the Rampal International Competition).  Her CD recordings include "Three Water Colors", Kensaku Shimizu "Japanese songs and World Songs" and "Umi".
She regularly gives recitals.  She has an ongoing project in which she has performed all Unaccompanied Cello Suites and now in the process of completing all Sonatas and Partitas for Unaccompanied Violin by J.S. Bach. Besides her activities in Japan, she has been invited to perform, give master classes and lectures at various places, including "the Festival de Musiques Nouvelles in Toulouse" in France, "Flute Convention in New York", the College of New Jersey in the United States, Qiqihar University and Suihua Music Conservatory in China.
Born in Japan, Rie Shimizu started her career as a flute player while studying at Toho Gakuen School of Music in Tokyo with Ryu Noguchi.  Her desire was to study with Doriot A. Dwyer, the former principal flutist of the Boston Symphony Orchestra, who possessed unique quality of her flute sound.  She received her Master of Music degree from the Boston University.
Currently, Rie Shimizu is visiting professors at Qiqihar University and Suihua Music Conservatory in China, lecturers at Toho Gakuen College of Drama and Music, and Niigata University in Japan.
"This concert, entitled "The History of Japanese Composers ~flute works vol.1", consists of all flute works, composed by important Japanese composers in the 20th and 21st centuries.  I tried to revive each of the crystal works from a unique perspective.  You can feel the Japanese essence in the works, constructed as Western music.  This concert was subsidized by the Video Industry Promotion Organization, a non-profit organization officially established in 2005 through the Japan Business Federation (KEIDANREN) proposal.  This video was also made possible by the special cooperation with the Powell Flute Japan. Rie Shimizu"
Instruments
Platinum

Handmade Custom Piccolo

Retour en Haut