Suche
Suzanne Gilchrest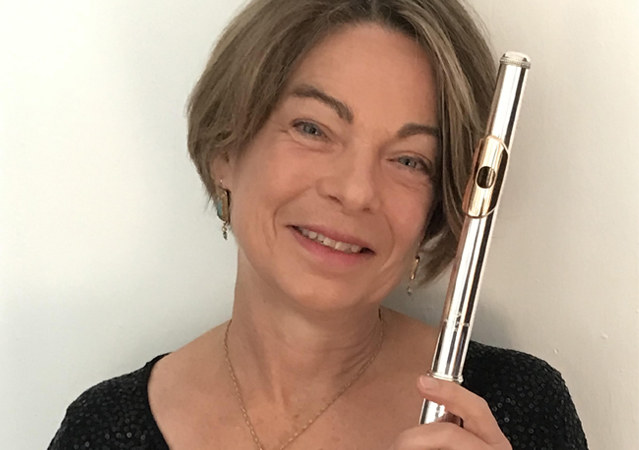 Professor of flute and chamber music at NYU Steinhardt and SummerKeys
Suzanne Gilchrest has performed as a soloist and chamber musician throughout the United States, Germany, Austria, Italy, and Switzerland. She has been noted for her "highly artistic standards" (Vorarlberger Nachrichten, Bregenz, Austria), her "beautiful sound" (Anzeiger der Stadt Kloten, Switzerland) and her "polished and brilliant playing" (Dolomiten Zeitung, Bolzano, Italy). She has appeared in Weill Recital Hall at Carnegie Hall, Merkin Concert Hall, Florence Gould Hall, and Symphony Space in New York City, and has performed and given master classes at universities and concert series from California to Berlin and from Havana, Cuba, to the St. John Valley in Maine. Live radio performances include several appearances on "Around New York" on WNYC-FM, "Morning Pro Musica" on WGBH-FM in Boston, and "Live at 11" on Maine Public Radio.
Primarily a performer of chamber music, Ms. Gilchrest is a member of the awardwinning flute, viola, and cello trio Eight Strings & a Whistle. The Trio has been featured at the Festival of New American Music in Sacramento, twice at the Festival de Musica Contemporánea in Havana, Cuba as well as on the Spectri Sonori Series at Tulane University in New Orleans, and on the Stern Virtuoso Series at Skidmore College, in Saratoga Springs, to name a few. Performances in New York City include concerts at venues such as the Tenri Cultural Institute, the Queens New Music Festival, Spectrum, Merkin Concert Hall, and the Leonard Nimoy Thalia at Symphony Space. Eight Strings & a Whistle has three releases on the Ravello Records label: its debut recording, Albert's Window; 96 Strings and 2 Whistles, a recording of the music of Scott Brickman; and Chamber Symphonies 2, 3 & 4, a recording of the music of Douglas Anderson.
Ms. Gilchrest also performed for many years as a member of the Browning-Gilchrest Flute and Guitar Duo. A winner of the Artists International Chamber Music Award, the Duo toured regularly throughout the United States and Europe. Its recordings Serenade for Flute and Guitar and Duo Chant (Prospect Classics label) have received wide critical acclaim.
Strongly committed to introducing young people to music, Ms. Gilchrest has participated in many Arts-in-Education programs, performing concerts and giving workshops in elementary, middle, and high schools throughout the eastern United States. She is a former Teaching Artist for the Chamber Music Society of Lincoln Center and a former faculty member of the chamber music program at the New York Youth Symphony.
Ms. Gilchrest currently teaches flute and chamber music at NYU Steinhardt and SummerKeys in Lubec, Maine. She is a Patroness Member of Sigma Alpha Iota, the international music fraternity for women. Ms. Gilchrest is a graduate of Sarah Lawrence College and holds a master's degree in Chamber Music Performance from NYU.
Instruments
Sterling Silver

Retour en Haut